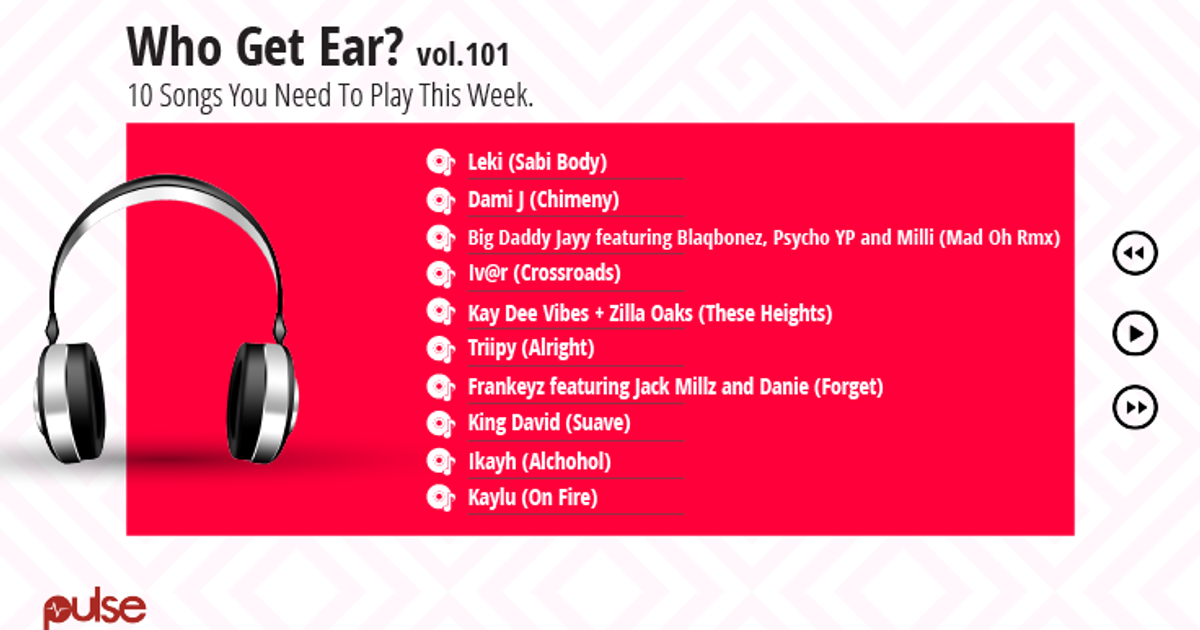 Welcome to another inst installment of 'Who Get Ear,' Pulse's flagship act for upcoming acts in the Nigerian music industry. This feature has been on for two years and Pulse Nigeria is proud to say it has been spotlighting some of the best songs and acts in the Nigerian underground for two years.
This is the 101st installment of this beautiful feature listicle is now available on streaming platforms, Audiomack and Apple Music.
Weekly acts will also get a spotlight on Pulse Nigeria's Instagram Page. The pick of the week will also get a 30 second spin on Pulse Nigeria's Instagram stories. Last week, we feature Zilla Oaks, Dwayne Momodu, MOJO, Illgod, Sheyi, DOTTI and more.
This week, we feature Leki, Big Daddy Jayy, Kay Dee Vibes, King David and more.
Pick of the week: King David – Suave
Moment of the week: Iv@r + CJZU = Crossroads [Verse One]
Here are our picks this week;
Leki – Sabi Body
A few years ago, Leki was the rave of town with his 2face-esque single, 'Advice 101.' He's been making music since then, but now, he returns with this pop sound. Enjoy it.
Dami J – Chimeny
The song is an Afro-pop that discusses the concept of sex with creative use of metaphors and symbolism.
Big Daddy Jayy + Blaqbonez + Psycho YP + Milli = Mad Oh Remix
On the review for Jayy's EP, Jaynius, Pulse Nigeria described 'Mad Ohh' as one that, "Rounds out the experience as Jayy invokes the spirit he exhibited on 'Clap For Yourself.' It's a call and response on the pop culture slang, 'Mad Oh.' On this one, Jayy builds trap that could appeal to an audience with the strength sarcasm."
This remix is studded.
Iv@r featuring CJZU – Crossroads
From his 2020 EP, Clouded EP is this Hip-Hop tune about depression, downtime and drug consumption. The drugs are consumed as a means to keep going even though Ivar raps that, "I'd be lucky to live past 48…" In the darkness of this song lies truth.
KayDee Vibes + Zilla Oaks = These Heights
From Kay Dee's 2019 EP, Based On Belief is this banger. No long talk, it's our pick of the week. Go play it.
Triipy – Alright
Triipy traps out with the positivity that "we're gon' be alright" despite the dark times we live in. If you're looking for a bop that helps you dance into positivity, this is for you.
Frankeyz + Jack Millz + Danie = Forget
For an Afro-pop jam is this rap song titled, 'Forget.' It sees Frankeyz and JackMillz engage in braggadocio to engage the right type of commercial value.
King David – Suave
From his Best of 2019 compilation is this beautiful Alternative Hip-Hop jam. The power is in the beat and what King David does to it. This is amazing music.
Ikayh – Alcohol
Off his EP, Life of Ikayh comes this commentary about the sides of alcohol.
Kaylu – On Fire
Enjoy the trap.