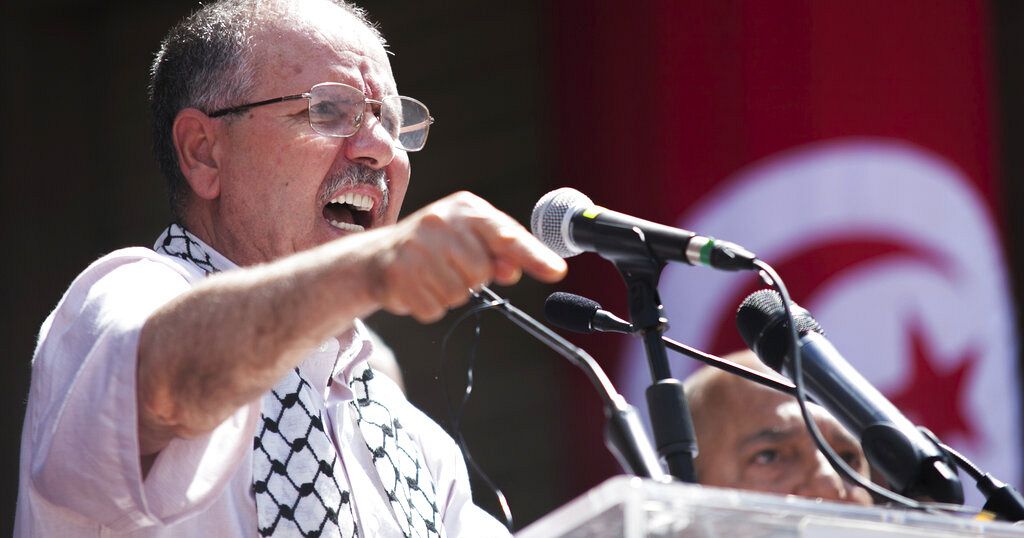 Tunisia's highly effective UGTT commerce union has accused President Kais Saied of concentrating on it as a distraction from file low election turnout and what's been known as a "whole failure" of his financial insurance policies.
On Friday 3 February UGTT chief Noureddine Taboubi held a gathering in Gammarth to debate the arrest of the union's senior official Anis Kaabi earlier within the week.
The nation faces excessive inflation and a scarcity of primary items.
Mr Taboubi mentioned: "The president is attempting to divert consideration from the file low election turnout within the first and second spherical of legislative elections and the utter failure of his financial and social choices."
Tunisia held elections final weekend for a parliament stripped of its powers by Saied. It was boycotted by nearly 90 % of voters after critics accused him of attempting to silence his political opponents.
Mr Taboubi added: ""Why is the UGTT a goal? As a result of [the authorities] need to cross the painful reforms they're all the time discussing.
"To be able to cross these painful reforms, they should distract the general public with trivia by saying that the rationale for this case is the UGTT."
The top of the million-member union federation, which collectively received the 2015 Nobel Peace Prize for its position in Tunisia's democratic transition, mentioned Kaabi had been arrested to ship "a transparent message, that the UGTT is a goal".
Kaabi was detained on Monday after staff at toll limitations on Tunisian highways went on strike for higher pay, which means tolls normally paid to the state-owned highways firm went uncollected for 2 days.
Critics of the federal government noticed the 11.4 % turnout as a rejection of Saied's post-revolution political system which gave him new powers and made him nearly unimpeachable.