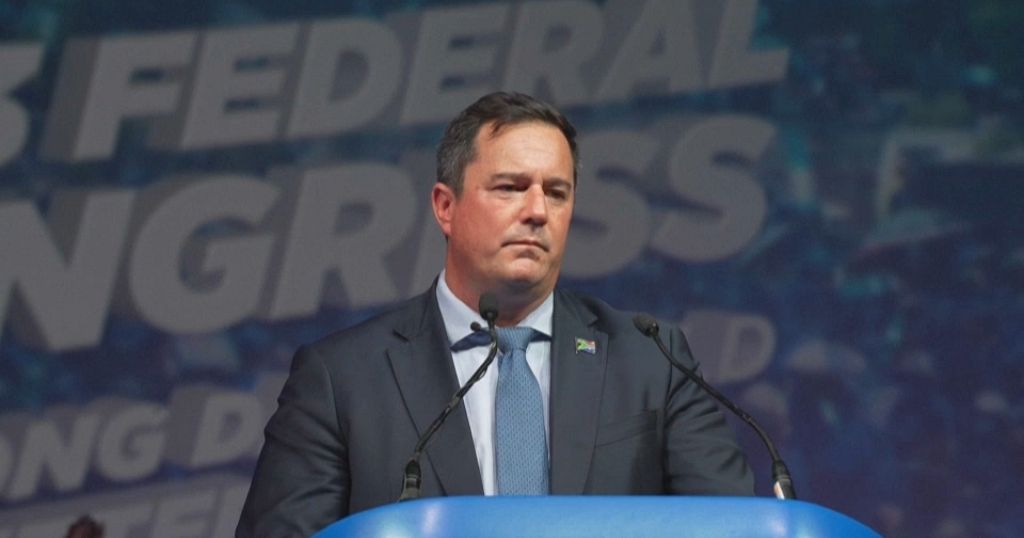 The chief of South Africa's largest opposition get together was reappointed on Sunday as head of the Democratic Alliance.
Talking after being re-appointed, John Steenhuisen, referred to as for a "united opposition" and introduced himself as the choice for the nation.
"That is not about politics. It's concerning the survival of democracy and the survival of South Africa" (…) "The reality is that South Africans not anticipate the DA to be an opposition get together solely, not to mention only one get together amongst many. South Africans now anticipate us to step up and be the chief of the choice authorities in South Africa", stated John Steenhuisen, chief of the Democratic Alliance.
Greater than 2,000 delegates of the Democratic Alliance (DA) gathered over the weekend at a congress close to Johannesburg.
"We've got elected our management. We're able to take out the corrupt ANC authorities and put a robust authorities of the DA that cares concerning the individuals" stated Katlego Makgaleng, a DA delegate.
South Africa holds common elections in 2024. The ANC, in energy since 1994, has been dropping floor on the polls for the previous decade.
DA delegate Imraan Keeka added "we're ecstatic that John Steenhuisen has been elected as chief of the Democratic Alliance. And the work in the direction of eradicating the ANC from authorities has began with this being the launchpad for the 2024 elections".
The ANC faces rising discontent fuelled by endemic unemployment, rising inequality and a extreme electrical energy disaster that leaves some 60 million South Africans with out energy for as much as 12 hours a day.