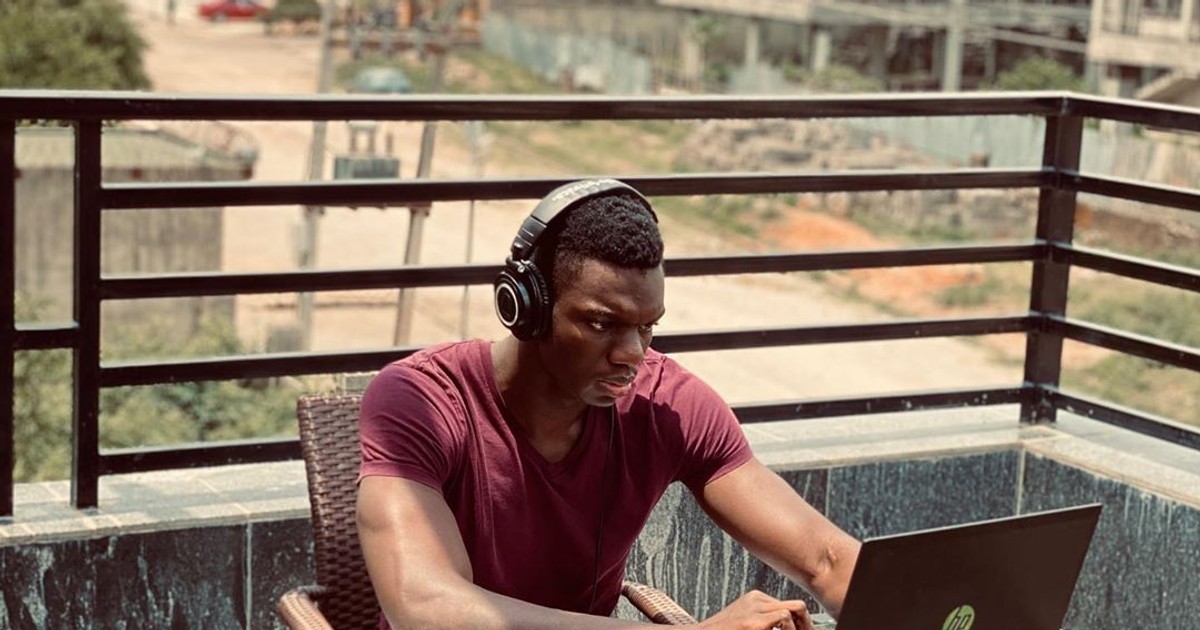 He went on Instagram the next day and saw that people were congratulating him for the record which was going to drop the following Friday. In that moment, he realized that what he does is not about the money. Tekashi 6ix9ine might have been his biggest client, but Ransom has produced other popular acts.
Earlier in 2020, he'd produced for British rappers, Big Tobz and Dizzie Rascal from the comfort of his home in Abuja and his YouTube channel, Ransom Beatz.
The life of a people – sometimes derogatorily – called, YouTube Producer is usually an enigma. Some people feel like these hardworking, consistent music makers are wasting their time in an ocean that contains several sharks. When you are Ransom Beatz, that reality hits another level.
Born John Eyinbo, he picked music production in SS1 at age 14 after listening to a Masterkraft. Along the line, he quit music production because he was caught between not feeling good enough and dreading failure. But before he graduated in 2019, he had produced 'Goosebumps' for Runtown in a small London apartment.
Around that time, he also found his confidence to keep going. While others dislike the term 'YouTube Producer,' Ransom is indifferent. He's used tech savvy and years of learning to become a popular shark in a very big ocean. Today, he has over 56,000 subscribers on his YouTube page.
On this day, the soft-spoken Youth Corps Member is not the most boisterous. Yet, he tells this writer about what it means to be a YouTube Producer, what he puts into standing out, how he gets paid by buyers, avoiding scams and getting paid by YouTube itself.
To get here though, there was a journey.
Following sounds: doubt and detraction
Before he got there, Ransom wasn't always the most confident in his own ability. He battled this at different stages of his career, but his earliest encounter with lack of belief was in SS1, after he made his first beat.
"That beat was very bad [laughs] and people laughed at me. I uploaded it to YouTube at the time and my brother brought it back some days ago. I was like, 'What is this?' [Laughs]. It was very bad." he reminisces.
The next time doubt hit him in 2015 – his second year at the University of Essex.
"I quit music for one year in my sophomore year in Uni. Bro, I was really bad (laughs) at this music thing. If you'd heard me play the piano at that time, you would cry for me (laughs). You would say, 'Bro, music is not for you. Please stop it.' I promise you, it was actually very bad," he reminisces.
Benin-born Ransom wasn't frustrated, he was just tired of people not taking him seriously. Sometimes, he'd play beats for friends and they would say they wanted "real music" instead.
He was on this hiatus in Essex when a friend walked into his room one day and saw a piano. "Do you make music?" the friend asked. "Yes," Ransom replied. The friend then asked Ransom to play him some music. After Ransom played the music, the friend said that even though the sound selection wasn't perfect, he heard potential. The friend also urged Ransom to keep producing.
It took him a while, but Ransom finally realizes why he's been scared – fear of being random and basic. A part of him also says, "Everything is patience and I might not have had any at the time. Now, I believe in the journey and that good things take time."
Meeting Ramoon helped him beat some of that.
Meeting Ramoon
By 2018, Ransom had been back into production. His confidence was still fragile, but he was pushing himself to learn more instrumentation and sound engineering.
In 2019, while Ransom was still in the UK studying Accounting, he saw a Morrocan producer with 15,000 subscribers on YouTube. Ramoon had a diverse sonic palette [Trap, Afrobeats, Reggaeton and Moombahton] and Ransom admired him.
Ransom had started producing Afrobeat in 2018 and wanted to get more perspective on the genre, so he hit Ramoon up with kind words and an offer to collaborate – before then as an Abuja-bred Gen Z person, he was deeply into trap music. Melodies were shared and they started working.
Working with Ramoon has since improved Ransom as a music maker. He has also grown in confidence and openness to take risking. It's worked.
"Before things started looking up, I used to tell Ramoon on one of our many talks that I wasn't sure it would ever happen for me in music. Ramoon would always tell me to keep going and that's how we started rubbing ideas and my music improved," he says.
Having beat disliking his own sound and fear of being basic with high work ethic, consistency, strategy and experimentation, Ranson now produces two to three beats everyday. But even now alongside Ramoon, they try to never repeat familiar sounds – if they are producing something they've heard or made before, they delete it.
Inspired by the Afro-swing culture in the UK, Ransom started producing more dance, methodical feel-good music and that led to…
Producing for Runtown
When Ransom Beatz got a message from Runtown in 2019, he had met Ramoon and he had started evolving, with more optimism and realism. But then, he didn't think he was going to get called up by one of Nigeria's biggest artists to produce on his comeback EP.
Ransom uploaded a beat to his channel and got a message from Runtown and they linked up in London. In minutes, Ransom made a beat and by the next morning, Runtown voiced. The song became 'Goosebumps.'
Being a YouTube Producer: Producing for 6ix9ine
Across the world, some people feel things like YouTube Producer or Soundcloud Artists can be derogatory or limiting, but not Ransom.He feels like all producers are simply producers regardless of the medium they use to showcase their talent.
"We use YouTube to showcase our talent and the good thing about that is that it exposes us to the whole world. The beat that became 'Yaya' was from Ramoon's channel, which specializes in Trap, Afrobeats, Reggaeton and Moombahton and we got called up," Ransom says.
Being a YouTube Producer: How do you stand out?
To Ransom, everything is strategic and having Ramoon makes everything easier with a 'Divide and conquer' idea and nearly 100k in subscribers. In the world of YouTube, identity is important and fundamental to that is branding.
Ransom's channel is known for Afrobeats, Trap, Drill and Dancehall. Ramoon's is known for Trap, Afrobeats, Reggaeton and Moombahton. When they collaborate on beats, the genre of that beat goes to the channel that is known for that sound – regardless of whose idea it was or who did a chunk of the work.
It's so serious that Ransom makes other genres of music asides Afrobeats, Trap, Drill and Dancehall, but never uploads them to his channel because he studied YouTube's algorithms and successful YouTube Producers and realized that they were all known for certain things. That helped artists know where to look whenever they're looking for beats.
To Ransom, doing too much is risking saturation and having no identity or identifier. When that happens, search won't favour you and neither will artists' subconscious.
It's also about understanding your market. Ransom's customers and subscribers and mostly from the US and UK, so that informs the types of Afrobeats, Dancehall, Trap and Drill he makes.
Being a YouTube Producer: 'Type Beat,' Aesthetics and YouTube ranking
Other things that have helped Ransom stand out are SEO and aesthetic (cover art and even thumbnail). On social media, people make fun of the 'Type Beat' concept because they don't understand it. For YouTube Producers, it achieves one thing; SEO.
Ransom says, "Some people use 'Type Beat' to simply create beats that sound like other existent beats, but that's not good enough for Ramoon and I. We create beats, look at who it might fit, use tech and see if it fits our channel algorithm.
"To rank up in my field of Afrobeat and Dancehall, I look for an artist that is popping and use an app called Video IQ. It helps me see the search volume [for an artist's name/genre] and the competition there [Number of times other producers have used an artist's name on 'Type Beat' or produced for that genre].
"Once I see high search volume and low competition, I start uploading to that genre or with that artist's name or both. But don't do it too much – if you upload more than twice in a day, YouTube might punish you. What I just do is stick to work with titles, even when it might be the same genre,"
And as much as people think aesthetics don't matter, Ransom feels that sometimes beauty attracts people. To him, whenever they see the 'Type Beat,' they listen right away. They see thumbnails first and that's why those things have to be on point.
Being a YouTube Producer: Making money
These days, Ransom licenses his beats to artists through BeatStars. Whenever people steal his beats and try to upload to premium streaming platforms, they will get flagged. So, he is confident that nobody can steal his beats. That safeguards his pay – he also gets paid by YouTube every month that he surpasses the $100 threshold.
Anybody who needs a beat just needs to shop on Ransom's website, see the license they need, contact BeatStars and the beat will be in their mail.
His current state of mind
Indifferent. Stoic. While he now has a clear path towards his goals and an understanding of what needs to be done to achieve those goals, he also has receipts to measure his success with. Yet, he's indifferent.
"I don't know if I have Axis II personality disorder or something, but I'm not something who's amazed by anything (laughs). Sometimes, I even wonder how I got here," he jokingly says. "Before, all I used to do was just make a beat, upload it to YouTube with this marketing platform I never thought I'd get here this fast – I mean it's not anything major by comparison, but it's still a lot."
Currently, he's working with Afe Babalola University alum, Eeskay. Between them is a shared underdog mentality. They attended the same secondary school where people didn't believe in them and that currently spurs them on as they work on new music. Ransom also produces Drill these days.
Going forward, he hopes to work with Rema and Wizkid – especially – and go as far as possible.