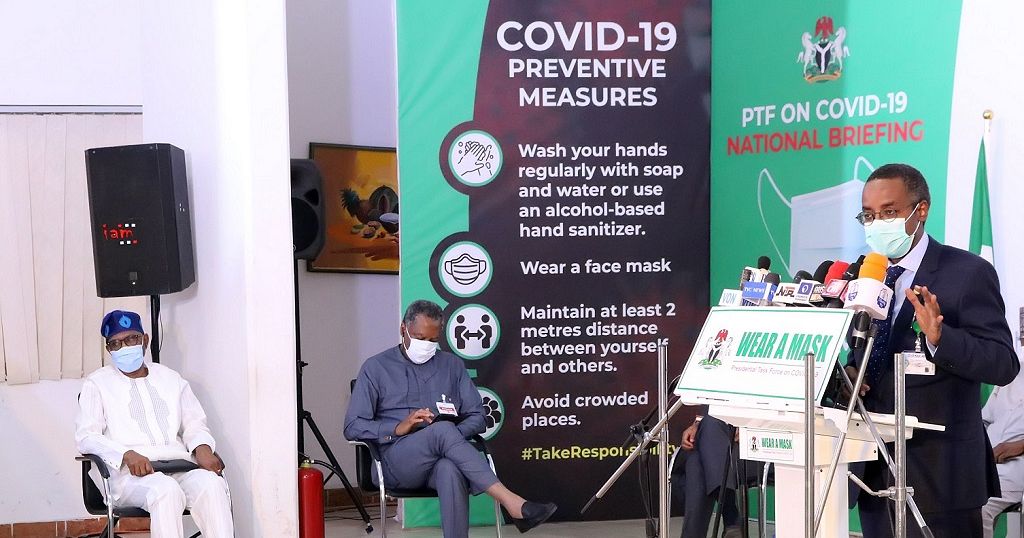 Nigeria, Africa's most populous country, as at end of June 2020 was Africa's third most impacted country only behind South Africa and Egypt.
As Africa's biggest economy, the federal government has continued to enforce regulations across the board even though most state governments have moved to relax restrictions.
The national response is led by the Presidential Task Force, PTF, led by SGF Boss Mustapha along with a national coordinator and relevant ministers – chief among them, Health, Foreign Affairs and Education ministries. At the heart of the response is the Nigeria Center for Disease Control, NCDC.
This article is dedicated to covering events from the country throughout the month of July. Our May 2020 page and June 2020 coverage also gives you a rundown of major developments.
July 6: 28,711 cases; Oyo schools reopen, Ebonyi governor infected
Schools across south western Oyo State have resumed as of today despite protests by the federal government insisting that conditions were not right for such a measure.
Local media reports suggest that strict virus prevention measures were being implemented with the return to school. All students, pupils are wearing some form of mask or face shield.
Temperatures are taken before learners are allowed into classrooms and there are handwashing points stationed at vantage points. There is also distancing between seats in the classrooms.
Others states have held off reopening of schools despite a progressive lifting of strict lockdown measures.
Over the weekend, reports emerged that Ebonyi State governor David Umahi had contracted the virus along with some of his aides. He joins the likes of Rotimi Akerodolu of Oyo and Delta State's Ifeanyi Okowa – who are still receiving treatment after recent infections.
Total confirmed cases = 28,711
Total recoveries = 11,665
Total deaths = 645
Active cases = 16,401
Figures valid as of close of day July 5, 2020
Students for Oyo State West Nigeria ?? don return to school afta two months for house.
See foto of di kain measures wey di schools don arrange to cancel coronavirus spread. pic.twitter.com/WmgaCNpkRK

— BBC Pidgin (@bbcnewspidgin) July 6, 2020
July 2: 26,484 cases, domestic flights start July 8
Domestic flights can begin operations from July 8, Minister of Aviation Hadi Sirika announced via Twitter on Wednesday. The latest big move as Africa's most populous country relaxes coronavirus restrictions.
The full reopening will span a week with Abuja and Lagos opening on July 8. Others will reopen on July 11 (Kano, Port Harcourt, Owerri and Maiduguri) and the rest on July 15, the government said on its official Twitter account.
On the subject of resumption of international flights, Minister Sirika said: "Date for international (flights) to be announced in due course. Bear with us, please."
Confirmed cases = 26,484
Active cases = 15,729
Recoveries = 10,152
Number of deaths = 603
John Hopkins Uni stats valid as of July 1, 2020
I am glad to announce that Abuja & Lagos airports will resume domestic operations on the 8th of July, 2020. Kano, Port Harcourt, Owerri & Maiduguri to resume on the 11th. Other airports on the 15th. Date for international to be announced in due course. Bear with us, please ??????

— Hadi Sirika (@hadisirika) July 1, 2020
July 1: 25,694 cases, Delta governor infected
Today marks the first day of the eased lockdown Phase II. "The primary aim of Phase Two was to sustain the gains of the earlier Phase in terms of pandemic control, while allowing additional sectors of the economy to restart.
"This will help achieve the desired balance between saving lives and ensuring that the wellbeing and livelihood of citizens are protected, the PTF said in a statement detailing the raft of new directives. The key ones being:
Maintaining the current nationwide curfew (10pm – 4am);
Maintaining the restrictions on mass gatherings and sporting activities;
Re-commencement of domestic aviation services;
Allowing movement across state boundaries only outside curfew hours;
Allowing students in graduating classes (Primary 6, JS3 & SS3) to resume in preparation for examinations;
Federal and State Government offices to maintain current timing of 9am – 2pm as Officers on GL. 14 and above, and essential staff from GL.13 and below are to continue to report for duty; and
Mandatory use of non-medical facemasks in public spaces with access to government and commercial premises to be denied for persons not wearing facemasks: 'No mask, no entry. No mask, no service.'
Governor of Delta State, Ifeanyi Arthur Okowa today confirmed that he had contracted COVID-19. According to a post on Twitter, he said he had contracted the virus along with his wife.
His disclosure comes barely 24-hours after that of Ondo State governor, Rotimi Akeredolu, who said he was asymptomatic and self-isolating.
The list of infected governors thus includes Abia State governor, Okezie Ikpeazu, who also confirmed being infected early this month. Governors Nasir el-Rufai of Kaduna, Senator Bala Mohammed of Bauchi and Seyin Makinde of Oyo, have all recovered from the virus.
Confirmed cases = 25,694
Active cases = 15,358
Recoveries = 9,746
Number of deaths = 590
John Hopkins Uni stats valid as of June 30, 2020
My wife and I have tested positive for COVID-19. We are well and continuing with our isolation/medication. We thank you all for your continued prayers for us and our daughter. pic.twitter.com/NzBWB96Q91

— Dr. Ifeanyi Arthur Okowa (@IAOkowa) July 1, 2020