Hennessy Back To The City Presents An Exciting Line-Up For This Year's Event
Hennessy Back To The City Presents An Exciting Line-Up For This Year's Event. The highly anticipated annual urban music and arts festival, Back To The City is set to take the Joburg city by storm once again this year. This year's event is graced by an electrifying line-up that promises an unforgettable experience for attendees.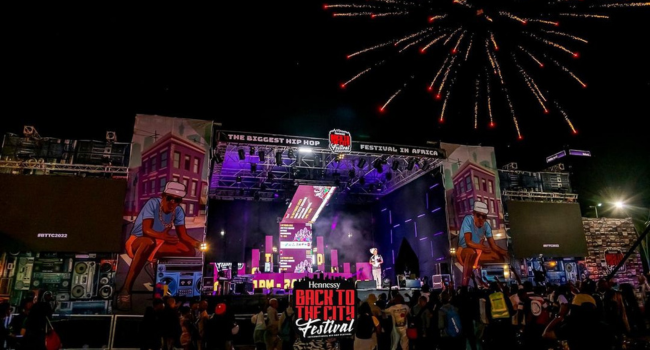 In the spirit of celebration, this year's event is quite special as the Hip-hop community worldwide is celebrating 50 Years. On the other hand, the SA rap culture is also part of the celebrations as it will also celebrate 40 years of local hip-hop.
Running under the theme "50 Years of Hip Hop"/ 40 Years of S.A Hip Hop" music enthusiasts, art aficionados, and city-goers alike are gearing up for a spectacular celebration of culture, creativity, and community. Taking to their social media platforms, the event organisers announced the artists, DJs, dancers and hosts that will make the 7th of October worthwhile.
"#BTTC2023 LINEUP📣 The moment you've been waiting for is finally here. Here's the 17th Annual BackTo The City Festival lineup. #17YearsOfBTTC#50YearsOfHipHop#40YearsOfSAHipHop#BTTCxHennessy TICKETS: https://www.webtickets.co.za/v2/EventCategories.aspx?itemid=1530904279 Congratulations to everyone who made it. International Acts to be announced. 50 Years of Hip Hop! / 40 Years of S.A Hip Hop!" Back To The City announced.
This year's line-up reads like a who's who of the hottest talents in the industry, with a diverse array of big-name rappers to reputable SA Hip hop DJs. It's clear that Back To The City has curated a roster that is sure to captivate audiences of all tastes. As if that is not enough, fans should also be on the lookout for a surprise guest on the night.
Tickets for Back To The City are available now on the festival's official website, and with the exceptional line-up and immersive atmosphere that awaits, they're expected to sell out quickly. So mark your calendars, rally your friends, and get ready to dive headfirst into the heart of the city's creative pulse at Back To The City 2023.