Grayscale's Bitcoin ETF optimism bolsters crypto marketplace sentiment
Grayscale's legal victory against the Securities and Exchange Commission (SEC) renews optimism for a US Bitcoin exchange-traded fund (ETF), boosting trading, investor sentiment, and overall financial markets.
The crypto and wider crypto-related stock markets are relatively firm hours after Grayscale's win against the Securities and Exchange Commission (SEC) at the District Court of Colombia.
On Aug. 29, a trio of federal judges in Washington, effectively overturned the SEC's decision to block Grayscale's sport Bitcoin ETF rollout. With this landmark victory, the crypto community senses that the first-ever Bitcoin ETF in the US is imminent, and it has triggered cascading impacts on market sentiment and dynamics.
Bitcoin market sentiment improving
Shortly after the announcement, Bitcoin trading volume skyrocketed by 44%. More than 37,680 BTC was taken off exchanges on Aug. 29, suggesting that some investors are cashing-in on short-term profits.
BTC price also spiked by 5% within an hour of the ruling.

There was also a notable change in the Bitcoin Fear & Greed index.
For much of August, the Index had been firmly entrenched in 'fear' territory, reflecting heightened investor anxiety. After the court's ruling, the index switched to "neutral," signifying improving market sentiment.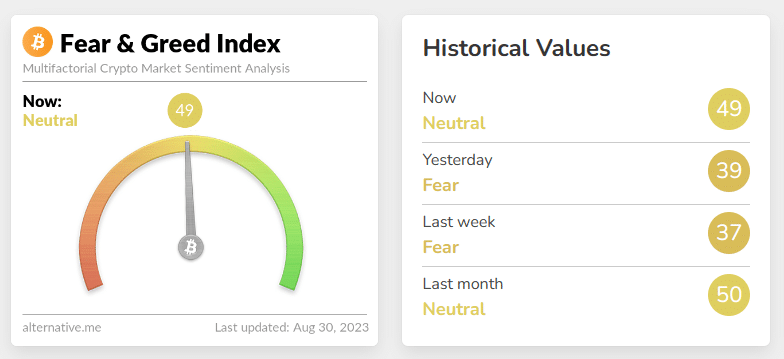 GBTC discount falling
Grayscale's Bitcoin Trust (GBTC) also benefited.
The trust had been trading at a significant discount to its net asset value (NAV), printing a 25% discount just a day before the ruling. Following the judge's decision, the discount fell to 18% and then to 17% in the New York session. This is a significant change from a 45% discount recorded early this year.
This decrease indicates growing investor confidence in Grayscale's financial instruments.
COIN, the share of Coinbase, a custodial partner in several other ETF applications, also rose 15%. Given its role in the crypto ETF landscape, this uptick indicates the market's bullish stance on the exchange's prospects.
When Bitcoin ETF?
Though the ruling is a setback to the SEC, it doesn't automatically greenlight the launch of a spot Bitcoin ETF. The regulatory body announced that it's reviewing the court's decision, while Grayscale is closely examining the opinion's details.
Michael Sonnenshein, Grayscale's CEO, expressed optimism but noted that the company has not received any communication from the SEC.
This legal development serves as a potential inflection point, challenging the SEC's longstanding reticence toward approving cryptocurrency-based financial products.
However, despite the upward market movements and the optimistic tones from industry leaders, it's essential to remember that regulatory attitudes can still pose challenges.
Based on Sonnenshein's views, it appears that people in the industry feel the SEC might struggle to justify rejecting Bitcoin ETFs.
"There really shouldn't be any further grounds like the SEC has been relying on to continue denying these types of products from coming to market."

Michael Sonnenshein told Bloomberg
This pivotal moment in crypto regulation could well serve as a precedent, opening the gates for other similar financial instruments to gain regulatory acceptance.
The SEC is yet to rule on five other pending ETF applications, with all of them having a deadline before the upcoming Labor-day Weekend.