Burna Boy is that includes J Cole on a music?
Anticipation for Burna Boy's album is rising as he is linked with interesting artists.
Burna Boy is making online tongues wag again! Speculations are circulating on the X app formerly known as Twitter that the next artiste Burna Boy will be featuring on a song is none other than J Cole.
J Cole is a top-charting African-American rapper who gained acclaim after the release of his first project 'The Comeup' in early 2007. He has since garnered a loyal following with his conscious rap style which fuses catchy beats, impeccable delivery and social commentary.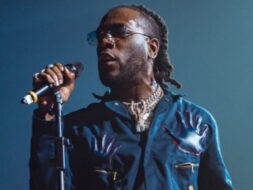 X app user @raptalksk posted a video of the two artists greeting each other. The video's audio had a clip of the song that the two musical giants are rumoured to have collaborated on.
Though this collaboration has not been confirmed, it is clear that Burna Boy wants to blow the collective minds of his fans with his next album. He has also been rumoured to be working on collaborations with Aya Nakamura, 21 Savage and Dave.